From crown lifting to full crown reduction and re-shaping we can offer you straight forward advice and expertise on the best pruning options for your trees.
Pruning
When pruning we use a combination of 'target' and 'drop-crotch' pruning which we believe gives the best results in terms of tree health, overall natural shape and long term cost. Other more traditional forms of pruning can (and very often do) lead to branch die back and shock growth which will require more regular maintenance, cost and corrective pruning in many cases.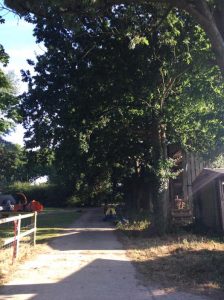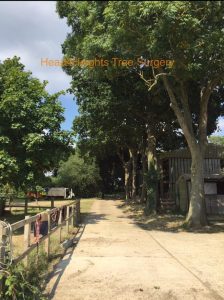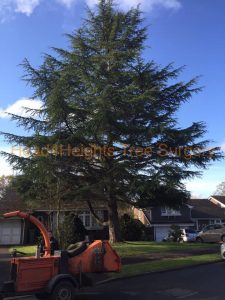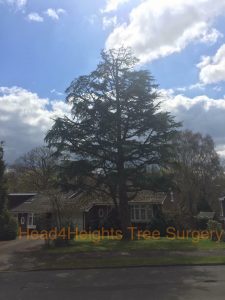 Crown Lifting (Pictured Above)
Crown lifting is the removal of lower branches; this may be done to improve access for vehicles but is also a highly effective way of improving light levels into a garden for example.
Crown Reduction (Pictured Above)
Crown reduction is the most common tree surgery procedure, it is where the whole tree is reduced in height and breadth.  This can be done to make the tree more aesthetically pleasing, to reduce the overall weight in the crown or for many other reasons. Tree species is also an important consideration too, Horse Chestnuts should be pruned differently to Sycamore for example (ask us why at the free estimate stage).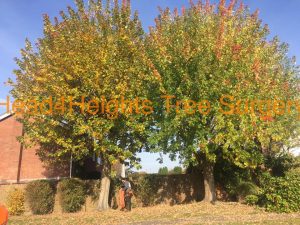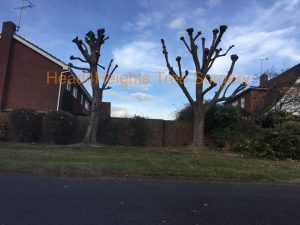 Pollarding (Pictured Left)
Pollarding a specific type of crown reduction, there are different opinions on what pollarding actually is and whether or not it is good or bad for a tree.  We are happy to give you detailed information about pollarding and whether it is the correct option depending on the tree species and other factors. Pollarding is easier and quicker to carry out.